FREE SHIPPING ON 2+ BOTTLE ORDERS
Chinola
$32.99
750 ML | 21% Alc. by Vol.
Drink Passion, Live Passion
Made with 100% passion fruit juice, Chinola is the world's first vine to bottle fresh fruit liqueur. Estate grown and handcrafted in the Dominican Republic since 2014. Chinola is an all natural liqueur that can be sipped on its own, in a spritz, or enjoyed in cocktails such as the Margarita, Porn Star Martini, and the Daiquiri.
Tasting Notes
Aroma:
Natural tropical aroma with notes of fresh passion fruit, citrus, vanilla & cedar.
Taste:
Deep, rich natural passion fruit taste. Sweet, tangy & brimming with tropical fruit.
Finish:
Long, lingering finish with a sweet & tangy start that persists with a passion fruit natural acidity.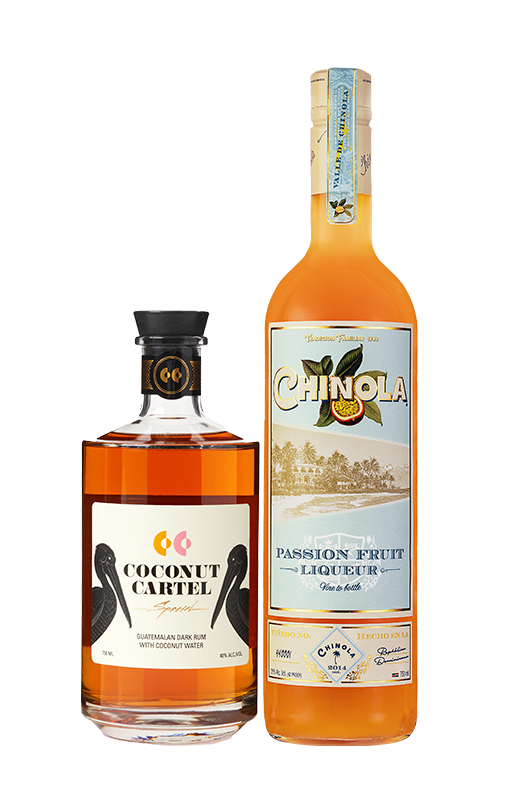 Tropical Bundle
Passion fruit and coconut — a duo that transports you beachside. Coconut is the perfect pairing for tropical passion fruit cocktails.

Bundle includes 750ml bottle of Chinola, 750ml bottle of Coconut Cartel, and a recipe card with four tropical cocktails.

Coconut Cartel is an aged rum blend cut to proof with freshly harvested coconut water. Cartel's unique proofing style infuses fresh coconut water with rich, oaky aged rum creating a wonderfully balanced & smooth sipping experience highlighting notes of oak & tropical fruit, with a luscious and refreshing mouthfeel.

Whether you're lounging poolside or hosting a dinner, shake up a Passion Fruit Daiquiri with 1 oz Chinola, 1.5 oz Coconut Cartel, 1 oz Fresh Lime Juice, 0.75 oz Simple Syrup, and a dash of Bitters. Strain into a coupe and take a sip of paradise.
Recipes
Reviews
Loved it. The quality is high and the price is right.
The Chinola Daiquiri is delicious and dangerous. Goes down way to easy and tastes so good. It is definitely worth buying the pair for that drink alone.
A one stop shop for cocktailing at home. Tastes just like a fresh passionfruit and mixes with any base liquor beautifully.
Have used it to make margaritas, mojitos and mimosas. Everyone I make one for loves it and wants another one.
Had never seen it before but love passionfruit so decided to try it. Made some of the cocktails on their website, and have to say I'll be buying this for a while. Wifey likes the passionfruit mimosa type drink and I switched exclusively to passionfruit margs. We're both hooked.
I've had this product in cocktails at some of Miami's best bars and absolutely had to have it for my home bar (especially during quarantine!). If you love passion fruit or find yourself wishing you were on a tropical vacation - then this is perfect for you! Super easy to work with an delicious!
Recently bought Chinola to bring to brunch. I had heard great things about it so I was excited to see it at Total Wine. We mixed it with Prosecco (3 parts Prosecco, 1 part Chinola) and let's just say there wasn't much left for seconds! Adds just the right amount of flavor without overpowering. Do yourself a favor and try Chinola!!
If you've been to Hawaii, you know what passion fruit is supposed to taste like. This is it. I've tried Passoa and there is no comparison. Sip it or add it to anything for a tropical drink.
Hands down, better than its rivals. Very authentic, tangy and bright passionfruit flavor. Worth every penny. I'd drop this in any number of cocktails without a second thought, use it in baking recipes or drizzle over vanilla ice cream or chocolate cake (try it instead of respberry!). It's that good.
If you are like me, you've searched high, you've searched low & most Passionfruit flavored anything's taste syrupy & synthetic—not so with this Chinola Passionfruit Liqueur. There are a million-and-one uses for this. It pairs up well with so many cocktails. My favorites are spucy passionfruit mojitos, spicy passionfruit margaritas & spicy passionfruit martinis. I guess I just love a good spicy cocktail! I'm loving the Jalapeño Tanteo Tequila right now. You cannot go wrong with a spicy-sweet combo for any social occasion. The flavor of Chinola's liqueur is very potent—a drop, or two, is all you need per cocktail. Hands down the best flavor profile. I even used some in my chicken marinade (it was delish!)! I cannoy recommend this highly enough! Pick up one (or TWO) bottles next time you are in the store.
Chinola makes a really nice mimosa!!! I love passionfruit and it was really refreshing mixed with a great prosecco!
I attempted to replicate a drink in a restaurant which called for Chinola Passionfruit. I took a rish and purchased this bottle and I'm so glad I did. It's an excellent mixer which is the perfect amount of sweet.
Full disclosure...was making a P*&$ Star Martini for a friends birthday and the recipe called for Passola or De Kuyper. But after looking at reviews of these liquors, it seemed like these tasted artificual. So, I ponied up extra money for the Chinola and so glad I did. Tastes delicious on it's own! We've brought home passionfruit concentrate from Hawaii and this is even better (but does have the added alcohol). After making the martinis, everyone liked the Chinola so much that we switched to this plus sparkling water and lime. Equally delicious! Highly recommend!
Finally a liqueur that tastes and smells like real fruit! Citrus forward and balanced incredibly to modify all the cocktails we served! Will definitely buy again.
I've never tasted anything like this passionfruit liqueur. It tastes like sweet, slightly tangy fresh fruit with a slight alcohol boost. It has more body and flavor than most fruit liqueurs. I use it in homemade sangria, pour it over ice cream, and add a splash to sparkling water. I think I'll go pour some into a glass right now!
So so good. Tastes like real passionfruit. Thick and tart. If you are unsure between this and passoa I would recommend Chinola! No artificial taste.