FREE SHIPPING ON 2+ BOTTLE ORDERS
Chinola
$32.99
750 ML | 21% Alc. by Vol.
Drink Passion, Live Passion
Chinola® Passion Fruit Liqueur is a handcrafted beverage made from distilled spirits and real passion fruit from our dedicated farms in the Dominican Republic. Through our unique blend and proprietary formulation, we have created a 'natural' liqueur with unparalleled taste and versatility. It can be consumed by itself or mixed with a base spirit, wine or sparkling wine to create a top-quality cocktail.
Tasting Notes
Aroma:
Natural tropical aroma with notes of fresh passion fruit, citrus, vanilla & cedar.
Taste:
Deep, rich natural passion fruit taste. Sweet, tangy & brimming with tropical fruit.
Finish:
Long, lingering finish with a sweet & tangy start that persists with a passion fruit natural acidity.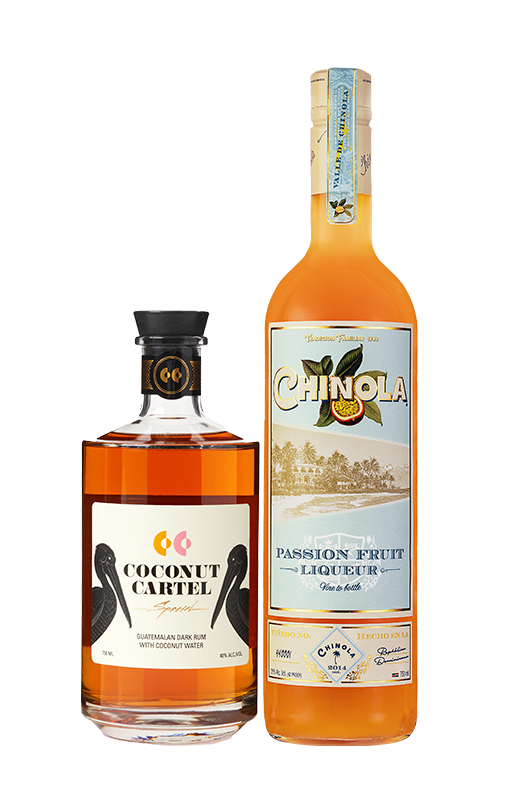 Tropical Bundle
$70.99
Passion fruit and coconut — a duo that transports you beachside. Coconut is the perfect pairing for tropical passion fruit cocktails.

Bundle includes 750ml bottle of Chinola, 750ml bottle of Coconut Cartel, and a recipe card with four tropical cocktails.

Coconut Cartel is an aged rum blend cut to proof with freshly harvested coconut water. Cartel's unique proofing style infuses fresh coconut water with rich, oaky aged rum creating a wonderfully balanced & smooth sipping experience highlighting notes of oak & tropical fruit, with a luscious and refreshing mouthfeel.

Whether you're lounging poolside or hosting a dinner, shake up a Passion Fruit Daiquiri with 1 oz Chinola, 1.5 oz Coconut Cartel, 1 oz Fresh Lime Juice, 0.75 oz Simple Syrup, and a dash of Bitters. Strain into a coupe and take a sip of paradise.
Recipes